The originally developed arch supports your weight evenly throughout the sole, so our shoes aid smooth weight shift and keep your feet relaxed. Enjoy the excellent and comfortable fit. Please choose the plentiful selections of the size and functions.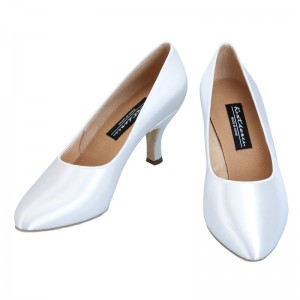 It will be enlarged with the mouse on the image.
You can find the features of our shoes by looking at the soles.
The picture below shows the sole of standard shoes for women. The size of these shoes is 23cm. Different shoes use different wooden pattern, so the shapes of the toe vary. In addition, the shape of the sole is deeply related to the properties of dance shoes, so please choose the right shoes for your feet.
Wide← Width is also different in the same regular →narrow
Round[WIDE]
Round[Nomal size]
Profit
Wave
French
Point
Satin shoes can be dyed in conform to your dress.
The following is an example of a color swatch.
| | | | | | |
| --- | --- | --- | --- | --- | --- |
| | | | | | |
| suntan beige | natural beige | pink | blue | green | yellow |
custom order size


( One month on delivery )

Size off-the-shelf commodity(cm)
custom order size


( One month on delivery )

Regular width

20.5R

21R

21.5R
22R
22.5R
23R
23.5R
24R
24.5R
25R

25.5R

26R

Wide width

20.5W

21W

21.5W
22W
22.5W
23W
23.5W
24W
24.5W
25W

25.5W

26W
Compatibility table size*Because of different width and length by manufacturer wooden mold design, Please use as a rough guide
Jpanan
20.5
21
21.5
22
22.5
23
23.5
24
24.5
25
25.5
26
UK
1
1

1/2

2
2

1/2

3
3

1/2

4
4

1/2

5
5

1/2

6
6

1/2

EUROPE
34
34

1/2

35
35

1/2

36
36

1/2

37
37

1/2

38
38

1/2

USA
4
4

1/2

5
5

1/2

6
6

1/2

7
7

1/2

8
8

1/2